If we are going to install Valiryo inside the shower, which we recommend whenever possible to get the best possible experience with the product, the biggest difficulty we face is the electrical connection. This is mainly due to the fact that, until the introduction of Valiryo, it was not necessary to have a light point inside the wet area of the bathroom. This is why it is necessary to bring a light point to the place where Valiryo will be connected. A simple task that does not require any reform in the house. It is only a question of passing a wire either through the false ceiling or through the wall from the nearest point. Of course, this does not suppose any risk since Valiryo has an IP56 certification that makes it totally safe to use in the shower, even receiving the impact of water.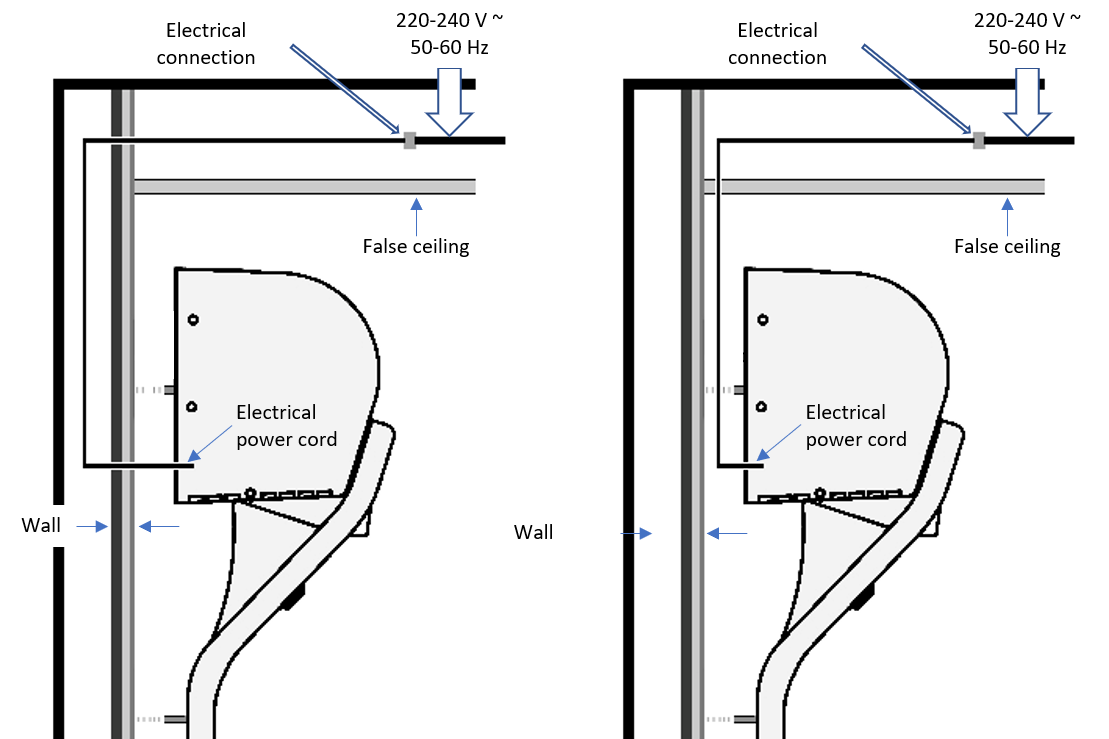 Nous recommandons toujours de faire réaliser l'installation électrique permanente par un professionnel, car elle doit être effectuée conformément aux exigences établies par la réglementation de votre pays. En outre, il est recommandé d'isoler l'installation Valiryo au moyen d'un disjoncteur de 16 A et de disposer d'un dispositif à courant résiduel (RCD), ne dépassant pas 30 mA dans le circuit électrique de l'équipement.

Le processus de connexion



As we have seen in previous posts, the installation of Valiryo is very easyComme nous l'avons vu dans les posts précédents, l'installation de Valiryo est très facile, similaire à celle d'un miroir avec une sorte de lumière dans la salle de bain : il est fixé au mur et connecté au secteur. Cependant, il est important d'avoir préparé le point de connexion avant l'installation pour être sûr que nous pourrons le connecter plus tard. Dans la vidéo suivante, nous pouvons voir le processus complet de raccordement de Valiryo. Veuillez envoyer cette vidéo à votre installateur avec le document expliquant tout ce qui concerne le raccordement pour les professionnels...


It is important to remember that Valiryo should always be connected to 220-240V. Too low voltage will not supply enough power for the proper functionality of Valiryo. However, this does not exclude that Valiryo can be used in any country. If you live in a country with 110-120V mains you must follow the instructions provided in this document to connect Valiryo correctly. Do not hesitate to contact us to help you with the electrical installation.

Our engineering team has made a huge effort to assure Valiryo's use anywhere in the world. This way, Valiryo will always arrive to you customized for installation in your country. If you live in a country with 110-120V voltage, it will arrive with two meters of wire to facilitate the connection to your electrical system. In countries with 220-240V voltage, it will also include the correct plug for your country.

Autres lieux



Valiryo can be also installed outside the shower area. So, if you don't have enough space or you want to use the body dryer in combination with a bathtub, don't worry! In this case, if you have a 220V installation in your home (common in Europe and many other countries around the world) you can simply connect it to the wall as you would do with any other household appliance.