BLACK FRIDAY - 20% DISCOUNT
Take advantage of our biggest discount of the year! Until 30 November! Extended for an extra 3 days!
The After Shower Experience

JOIN THE BODY DRYING REVOLUTION!
Valiryo gives a new meaning to body drying garanting it the significance it deserves!
Valiryo is a body drying column that can be installed inside the shower without the need for renovations, providing you with effective drying through its 27 air diffusers.
MORE RELAXING. ​ Indulge in a warm air massage with this new well-being experience for your bathroom that contributes to your physical and mental wellness.
MORE NATURAL. Valiryo allows your skin to absorb moisture without the friction of a towel, leaving it softer and more hydrated.
EASIER AND SAFER. Valiryo enables effortless and autonomous drying for everyone, while also enhancing bathroom safety.
MORE SUSTAINABLE. Valiryo eliminates towel washing, reducing water usage and pollution, and also leading to electricity savings.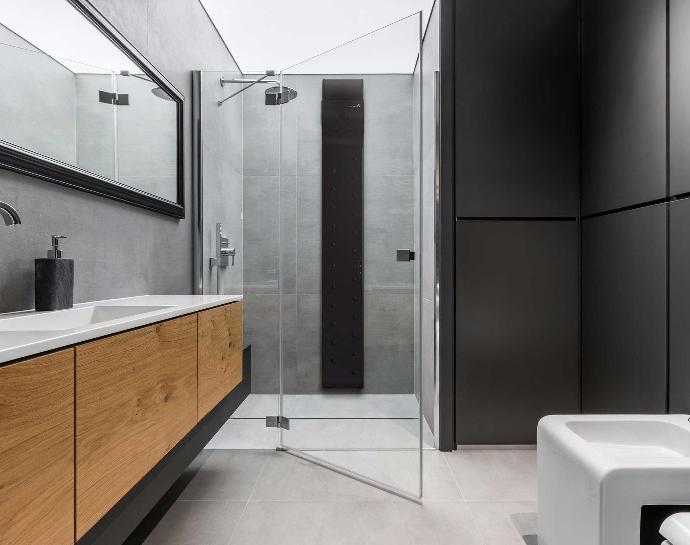 Water-Resistant: Certified for safe installation in the shower
Valiryo is fully protected against the entry of external elements, both dust and water. Our body dryer has been tested receiving the direct impact of a large water flow without any effect on its operation. This is why Valiryo can be safely installed inside the shower to provide the best user experience.
Valiryo has an IP56 certification, the highest in the market for a body dryer, making it the maximum rating it can achieve.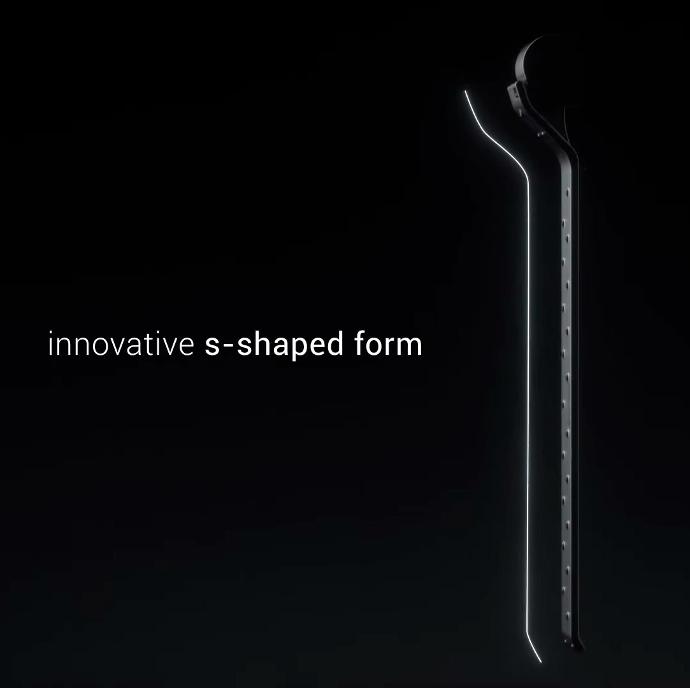 Unique patented technology developed by Valiryo
Valiryo's air diffusion technology is the only one on the market that provides a uniform flow, ensuring effective and complete drying from head to toe. This is made possible thanks to its "S" design.
Valiryo is an in-house design developed entirely by our own engineering team. Valiryo is a Spanish engineering company that carries out R&D projects with the aim of making people's daily lives easier. Our product is manufactured in the European Union.

Make sure to purchase original products and avoid copies that do not come with the same safety guarantees as Valiryo products.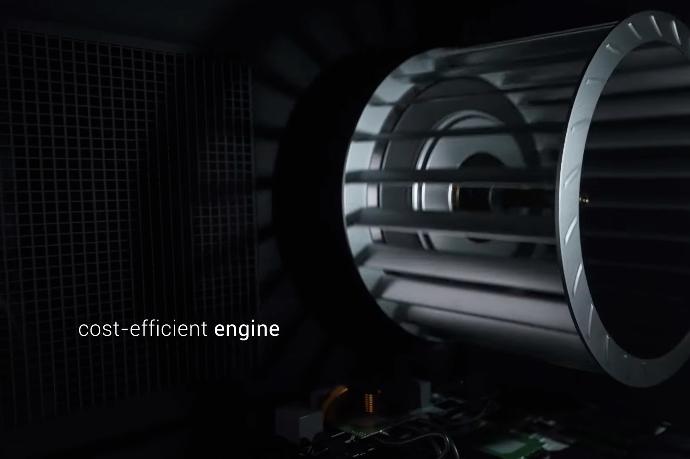 Efficient design without planned obsolescence
In accordance with our environmental consciousness, we have designed Valiryo to last forever without any issues.
Our vision is for Valiryo to become a permanent fixture in your bathroom, always ready for your use. This is a way to minimize our carbon footprint by designing a product that won't require any subsequent actions involving the mobilization of resources.
Additionally, we have worked to make the product as efficient as possible in terms of its operation and electricity usage.
Valiryo Body Dryer
The first and most advanced body dryer in the market. A unique and innovative product that will soon be in showers around the world.
GET AHEAD OF THE FUTURE!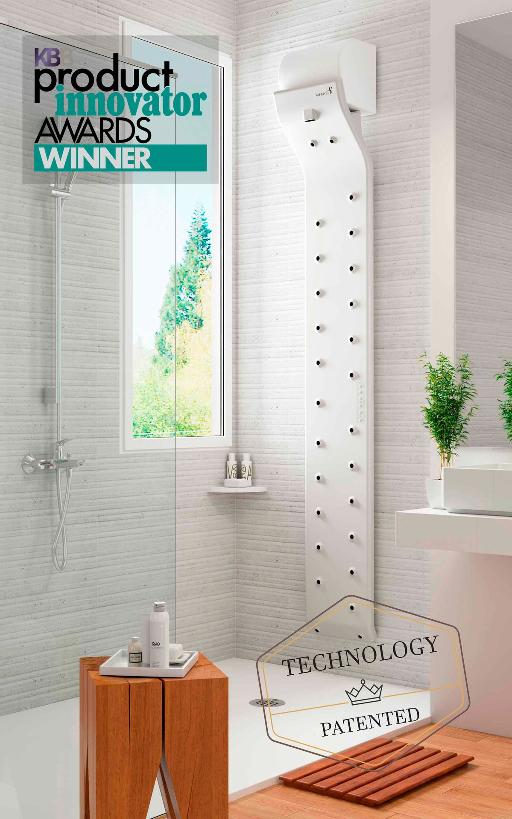 Do you want to start enjoying Valiryo in your bathroom?
You can purchase it from our online store, and we'll deliver it straight to your doorstep!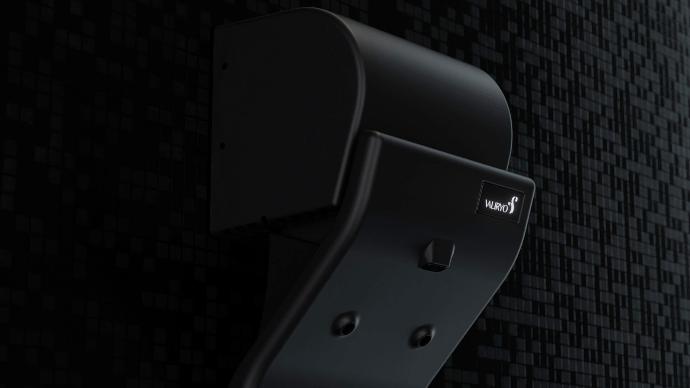 Motion Sensor for contactless switch-on
Through its control, Valiryo can be set to turn on automatically when the user stands in front of the column. This is intended for both a more hygienic use in public settings by different individuals and for people with difficulties in handling buttons.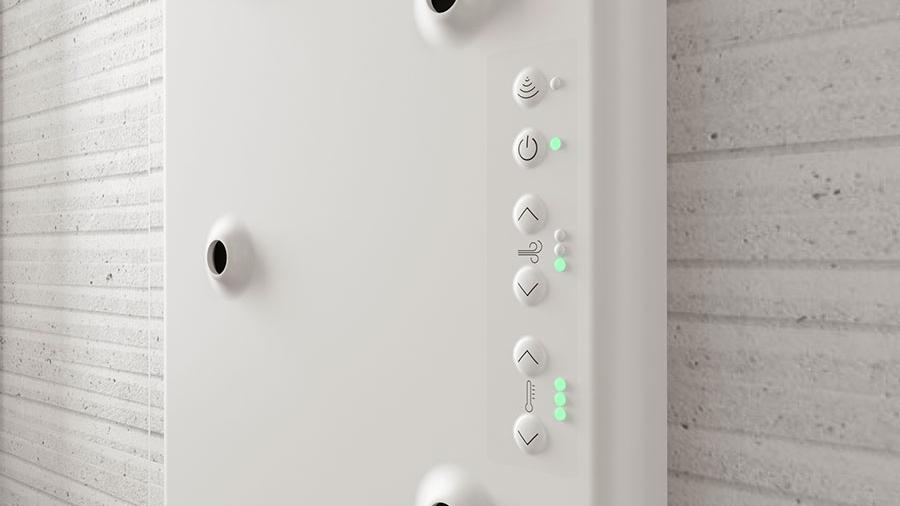 Adjustable temperature and intensity
Through the integrated control panel, you can customize your experience by choosing from 16 combinations of temperature and intensity. This way, depending on the occasion, you can opt for either a quick drying or a slower and more pleasant one.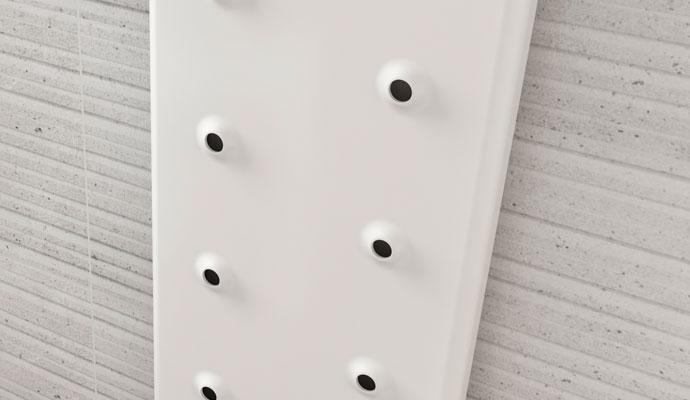 Safe, durable, and resistant materials
Manufactured in ABS plastic due to its poor electrical conductivity and its hardness and durability, which allows it to maintain the same appearance without color loss. Additionally, it has an outer protective layer (PMMA) to prevent scratching or damage.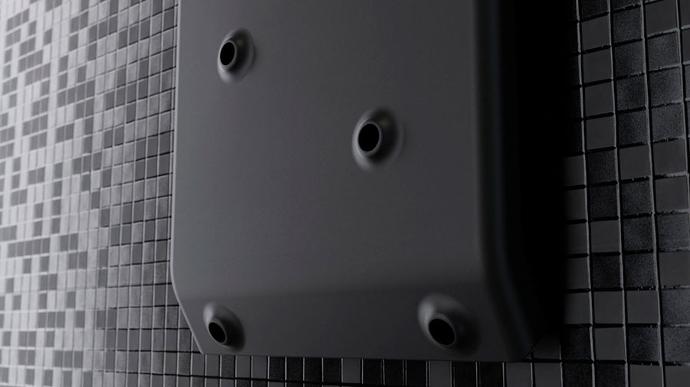 Lower diffusers to enhance safety
Thanks to its "S" shape, it has two lower diffusers which, in addition to drying your feet, are designed to remove moisture from the surface you are drying on. This enhances safety by preventing potential slips and falls, which often result in significant accidents.


An environmentally-friendlier drying method
The use of body dryers represents an environmental benefit compared to using towels, as towels require complex logistics for washing, drying, and maintenance, both at home and especially in businesses like hotels, spas, or gyms where towel logistics result in high consumption of both electrical and water resources.
0,55
Kg of CO2
we prevent from being emitted into the atmosphere each time we use Valiryo instead of a towel.
78
liters of water
that we don't use or contaminate with detergents and other chemicals by avoiding towel.
1,313
KW
of reduced electricity consumption using Valiryo compared to washing a towel.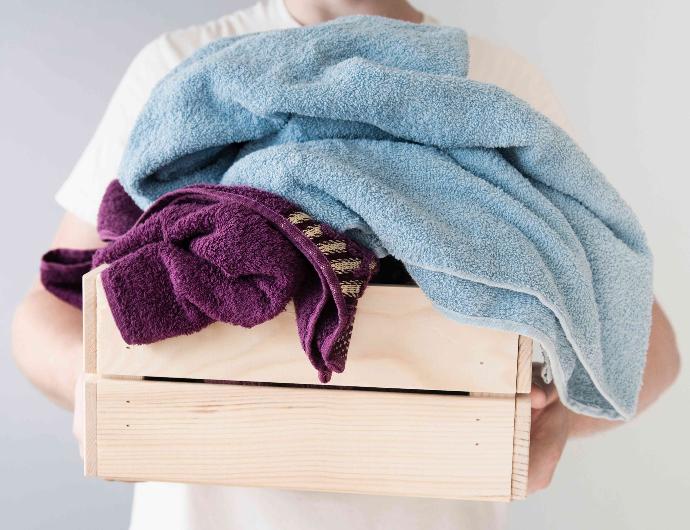 DISCOVER THE BENEFITS OF BODY DRYING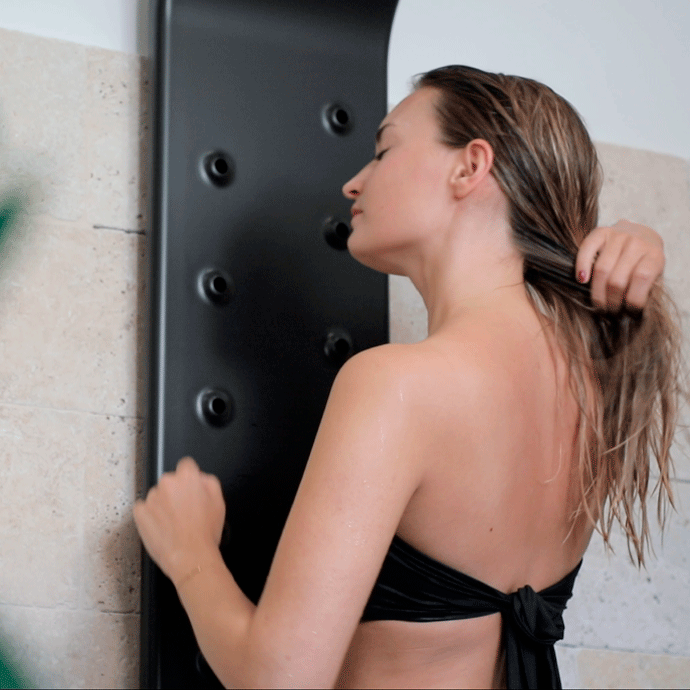 Luxury Arrives to Body Drying
Give a new meaning to body drying and prevent it from being an unpleasant routine, transforming it into an inherently valuable experience that relaxes your body and mind while caring for and hydrating your skin. Turn your bathroom into your haven of well-being!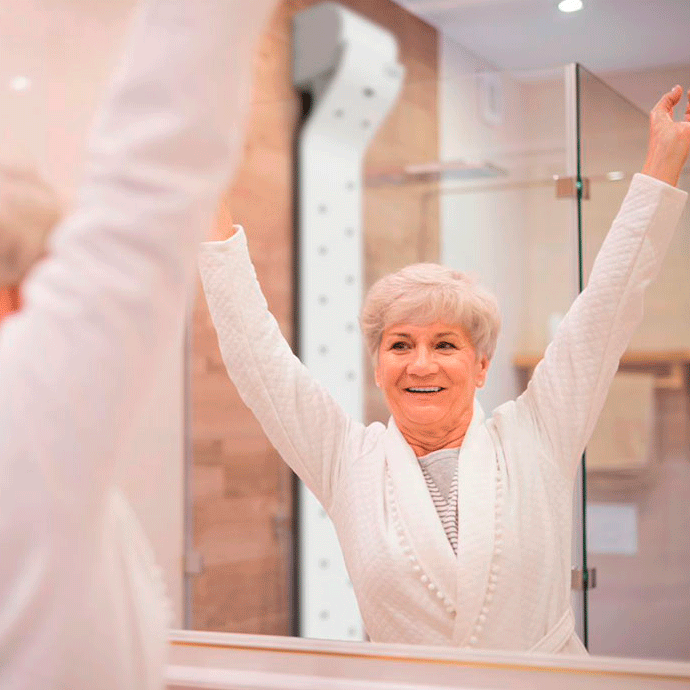 Adapt your drying to your needs
Not everyone finds it easy to dry off with a towel, whether due to age or mobility issues, as it requires complex movements and balances to reach those harder-to-access areas. With Valiryo, you just need to position yourself in front of the column and enjoy a warm air massage!
ONE SINGLE PRODUCT, MILLIONS OF POSSIBILITIES

HOME
A new essential bathroom element. A unique and innovative product.
CARE
A drying experience adapted without the inconveniences of a towel
HOSPITALITY

.A sustainable alternative to the use of towels in tourist establishments. ​
SPORT
A premium service to take care of your customers without wet towels.
WELLNESS
A relaxing and skin-friendly drying for a complete experience
REAL STATE
Differentiate and add value with a unique and luxurious product.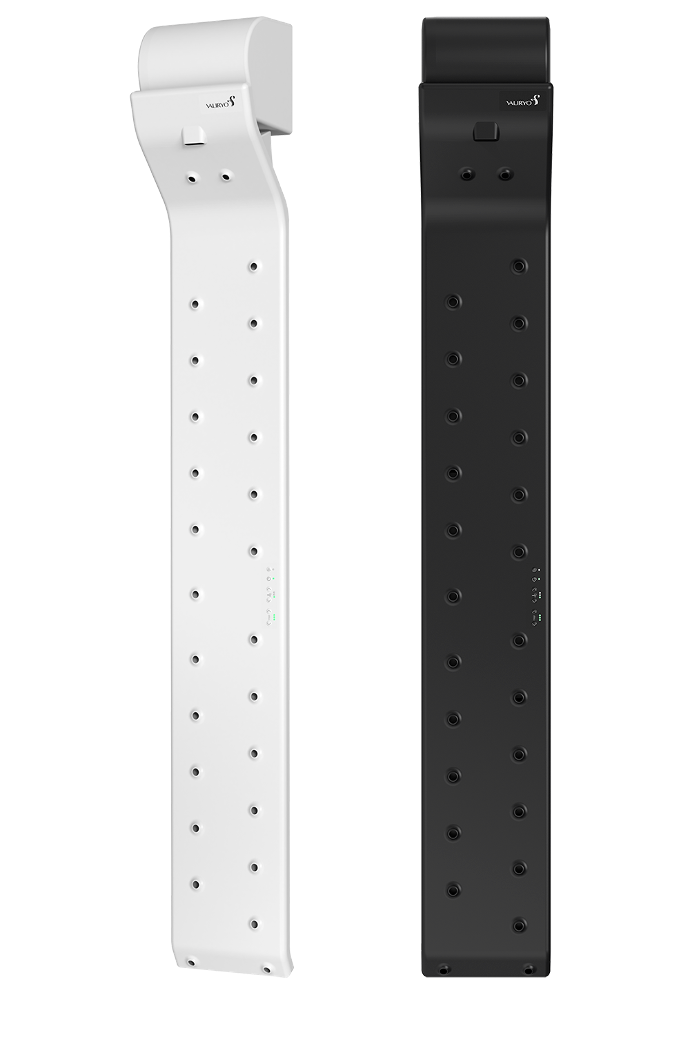 OPERATING DATA
Number of diffusers: 27
Drying time: 3 minutes average
Auto stop time: 9 minutes
Air speed: > 100 km/h (62.14 mph)
Decibels: Range (66 dB to 69 dB).
Sensor: position-sensitive and infrared detector.
LOGISTICS
Dimensions: 218 x 29.5 x 2.8 cm / 85,83 x 11,61 x 1,10 in
Valiryo weight: 9.8 kg / 21.6 lb
Packaging Weight: 2.1 kg /4.5 lb

STRUCTURE
Materials: ABS + PMMA
Antibacterial treatments: silver ions
Installation: flat wall (strongly recommended inside the shower)

Notes: a standard hair dryer produces 85 dB.

Temperature and speed variation between upper and lower diffuser: < 2 %.
ELECTRICAL INFORMATION
Input Voltage/Frequency: 220-240V/50-60 Hz
Power: Range (133 watts to 2800 watts)
Motor speed: 5000 rpm
Max intensity consumption: 12 A
Energy consumption on each use: Range (0,038 kWh to 0,143 kWh)
Temperature rises above room temperature: +32ºC (+ 57.6 ºF)
PRODUCT CERTIFICATION

IP56 protection index
Interior bathroom and shower area

Do you want to buy Valiryo Body Dryer?
You can now purchase Valiryo through our online store, where we explain the entire purchasing, delivery, and installation process. However, if you prefer, you can contact us so that, if available, we can direct you to one of our official reseller in your area.
Do you want to be part of our commercial network? If you want to sell or distribute Valiryo, we have various programs so you can join us and help us expand. More info here.